Andrews and USA Futsal are Supplying the 'Power' behind PFL International Challenge in Frisco

By Tim Sheldon
02/17/2015
Rob Andrews and USA Futsal are joining forces with the Professional Futsal League to bring a new synergy to futsal in the U.S., resulting in products such as the Professional Futsal League International Challenge March 13-15 in Frisco, Texas.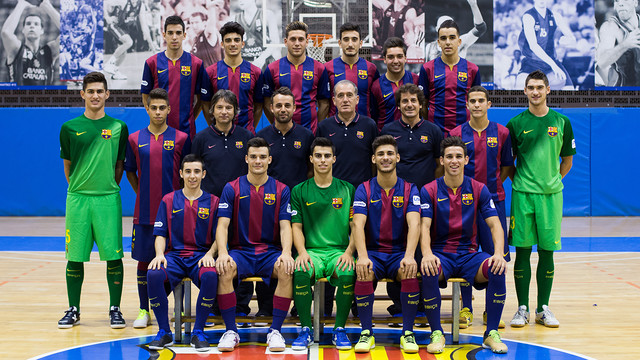 Barca B, FC Barcelona's highly-rated team of 19-year-olds, will arrive in Dallas March 9, visit the youth futsal activities, watch the NBA Dallas Mavericks play a home game and take part in the International Challenge versus the U.S. and Mexico at the Dr. Pepper Arena. They are now currently leading the Liga Nacional de Futbol Sala Second Division and are on their way to promotion to the First Division.
(Photo: Barca B will be visiting Frisco, Texas, March 9-15 for the PFL International Challenge.)
PFL press releases on the Challenge have the event "powered" by USA Futsal. This suggests that USA Futsal is lending its tournament organization skills to the PFL and its chief investor, Donnie Nelson, General Manager and Director of Basketball Operations for the Dallas Mavericks, to help produce the Challenge.
USA Futsal, based in Raleigh, NC, has emerged rather suddenly to produce major world futsal events such as last year's first-ever World Futsal Championships at the ESPN Wide World of Sports at Walt Disney World Resort. Donnie Nelson's daughter, Christie, worked at the Disney event for USA Futsal and is now their Chief Marketing Officer.
"This is an opportunity with the PFL, that they wanted to follow up their announcement with an event," said Andrews. "And they said you have the experience with the event. Let's talk about what we want to do."
USA Futsal began contributing its planning skills, and Andrews told the PFL organizers, "We can make a splash if we could get Barcelona."
They checked the dates that the Futsal Super Copa was going on in Spain, "putting all of the Second Division teams on a free weekend. And so it was like everything was lined up for Barcelona to bring a team that is leading the Second Division."
When USA Futsal put on the Intercontinental Futsal Cup in June, 2013, at the Greensboro Coliseum, they kept it at a top professional level, Andrews said. "When we define professional futsal, we want to define very clearly what that is. We've been working with the PFL since the inception. We were ready to help them however they needed us ... The highest level futsal in the world will be brought to the U.S."
Andrews called Barca B Coach Andreu Plaza and got the go-ahead.
"He said the one thing we can't provide for our guys is international exposure unless they get called up to the first team playing in Europe, so for them it's a positive to be able to come and play the international games.

"They also are big advocates of growing the sport globally, so they're really excited about being able to
contribute by coming to one of the strongest markets in the world and demonstrating what it is."
Barcelona's outreach to the U.S. extended in another direction in December, when the club announced plans to open an office in New York, building on the success it has had in Hong Kong.

Andrews said he is very impressed with the job Andreu Plaza has done as head coach of Barcelona's B Team.
"He was brought to Barcelona not only to coach the B Team but to be architect of their youth program, which was nonexistent a little over three years ago."
And now all of the Barcelona youth teams are leading in every category, Andrews said.
"And it is now to the point where they're leading in every category. Every team on Barcelona from 10 years to pro was in first place in their division."
Andrews said Plaza told him he received a call saying his team is winning the Second Division and could be promoted to the First Division next year.
"The coach said if you think this is just the season where this has happened you haven't been paying attention for the
past three years, because we have been building from nothing."

Andrews is excited at the level of skill Plaza's Barca B squad to going to show at the tournament.
"They've got a huge brand coming over, and we're excited for them." Andrews said. "The show they put on will be second to none."
With Plaza and his players volunteering to visit the youth events, "you will also be seeing a guy who could help us fundamentally as a country in how do you get here," Andrews said. "Not just, see how good we are, but how did we get there. The whole system was designed by him. So as far as I'm concerned he's one of the top minds in futsal that we can tap into."
Plaza visited Raleigh this past summer for USA Futsal's youth summer camp series, "and now with him coming in March to show off the finished product, the fans in Dallas are going to get a real treat."
--------------------------
Copyright Tim Sheldon and Futsal On-Line. All rights reserved.